Alamon Wireless Services:
Specializing in 5G Deployment and More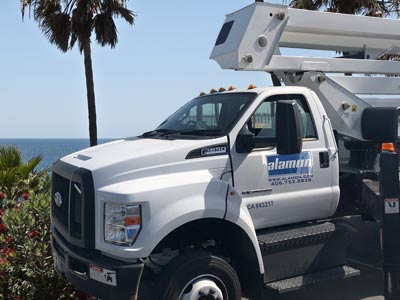 Alamon's field installation crews are installing the latest wireless 5G technologies.
We offer a broad range of wireless construction services, and a level of proficiency and dependability that has led to lasting relationships with some of the industry's established leaders.
In a fast moving, ever changing technological industry, Alamon remains on the leading edge of wireless technology. Our teams have assisted training contractors and carrier personnel in installation practices on the newest equipment. From backhaul to front haul, our technicians are connecting people and machines across the U.S.
The exceptional quality of our work and our commitment to workplace safety have been our most effective marketing tools. We are a highly trained, experienced, professional operation that consistently exceeds our customers' expectations.
5G Equipment Installation
Alamon's certified wireless technicians and field engineers are busy installing the latest cellular technology.
Our wireless team began installing 2G equipment with a small team working in the Pacific Northwest. Our humble beginning led us to our footprint today including offices in Las Vegas and south of Los Angeles.
Our goal is to always stay on the leading edge of the wireless industry. Our experts are constantly researching the newest hardware which has led to opportunities that include research and development with one of the largest carriers in the US.
Our teams have assisted training contractors and carrier personnel in installation practices on the newest equipment. From backhaul to front haul, our technicians are connecting people and machines across the U.S.
Our teams have been some of the first in America to install 5G technology and ensured our customers made their launch dates. With 17+ years of wireless service, we will deliver your projects on time and with the highest quality.
Alamon 5G Capabilities include but are not limited to:
Remote Node Installation and integration
Baseband Unit Installation and integration
Passive Intermodulation Testing and remediation
Right of Way small cell work
mmWave Equipment Installation
Fronthaul fiber splicing and characterization
10Gbps Microwave Link Backhaul Installation
Point to Multi-Point MW link installation
Call Testing
CPRI Testing
Smart City Infrastructure
IOT Device Installation
Contact us today to discuss your project, and our full 5G capabilities.
Alamon has the proficiency to install cellular system related equipment for any project. We have installed legacy and next generation systems in an ever changing architecture. Our quality sets us apart from others and has allowed us to develop into the company we are today. Whether it's a Pico, small cell or Macro Cellsite, Alamon can deliver.
We are experienced with UMTS, GSM, CDMA, 5G, MiMo, and LTE technologies.
Our skillset includes experience with vendors such as:
Ericsson
Nokia
Alcatel-Lucent
Samsung
Network Edge Equipment Installation
Installation of cellular equipment is only part of the workload. Our field engineers are installing network edge equipment for carriers across the U.S. We work with core transport teams to install routing and switching equipment from updating firmware to writing equipment configurations and troubleshooting connectivity. Let our technicians assist with hardware upgrades or installation of new network edge equipment.
Vendor Equipment Installation includes but is not limited to: Nokia, Cisco and Juniper.
As technology evolves, so do installation techniques. Our team is currently deploying small cell equipment for the largest carriers. Our team interfaces with city officials and customers installing equipment in areas typically not utilized in the past for wireless installations.
Small Cell Services Include:
New JPA site deployments
Light Pole deployments
Underground utility intersects
Fronthaul Testing
Licensed Electrical Work
Installation of pole shrouds
Installation of wood pole alley arms and equipment


Alamon has the ability to deliver an immense spectrum of capabilities for your new tower construction. We support services for civil construction, road building and tower erection, electrical installation, FAA lighting installation and road building.
Antenna Concealment Installation and Repair
New Site Construction
Tower Modifications
Co-location Installation
Carrier Upgrades
Outdoor and Indoor Distributed Antenna Installation
Rooftop Site Construction
Temporary Site Builds and Site Relocations
Alamon's accomplished employees are able to provide both civil and general construction services including but not limited to:
Concrete Pad Installation or Modification
Underground Utility Conduit Installation and Trenching
Security Fence Installation
New Road Installation
Utility Pole Installation for Wireless Sites
Project Management
Tower Structural Modifications
Microwave Installation and Line of Sight Surveys
Alamon's experienced microwave installation crews are capable of performing turnkey installation and integration which includes Line of Sight Surveys, microwave radio installation, spectrum analysis, firmware updating, path alignment, T-1 circuit testing, RFC2544 testing including 10Gbps radios and integration.
Our microwave teams support customers with special events for microwave backhaul services for events such as the Coachella Music Festival, the US Open of Surf in Huntington Beach, CA , The L.A. and O.C. Fairs and many more.
Dragonwave MW
Ceragon MW
SIAE MW
Proxim MW
Adtran MW
Lynx MW
Alcatel Lucent Microwave MPR-9500A & MPR-9500e Level 3 Certified
E-Band MW
Motorola MW
Fastback MW Certified
Radwin MW Certified
Line of Sight Surveys
Integration and Commissioning Support
Special Event Microwave Support
Maintenance Services / Emergency Response
Alamon crews have an extensive range of skill sets that allow us to provide services for your maintenance needs, including roof repair, line testing, concrete pad extensions, safe climb installation, tower lighting installation and upgrades, graffiti removal, weed abatement, painting, FRP repair, Line Sweep testing, interference analysis and many other projects.
We have aerial lifts and bucket trucks in select areas to meet time sensitive repairs. We offer full tower maintenance services, and provide quarterly or yearly inspections for the following: lighting inspections, grounding, corrosion, bolt integrity, safety climb, guy wires, and foundations. Alamon currently provides maintenance services for vendors such as Ericsson, Sprint and AT&T.
Alamon Maintenance Services include:
Antenna Systems
FAA Lighting installation or repair
Microwave Outages
Grounding repair or installation
General Construction
In-House Aerial Lifts and Bucket Trucks (for stringent, time-sensitive maintenance work)
24/7 Support
System Integration Support
Spectrum Analysis
Interference Hunting
Structural Tower Modifications
Alamon provides certified technicians to test your network to help deliver on key performance indicators. Our techs have certifications such as: Advanced JMA Wireless connections, and Advanced PIM testing certifications. We provide fiber characterization using EXFO OTDR platforms, and can also provide fiber connector end face inspection and optical cable loss measurements.
PIM Testing and Remediation
Microwave Testing and Integration
Anritsu Sweep Line Verification
Spectrum Analysis
Fiber Characterization
Fiber Scope Connector Endface Inspection
Power Meter Testing
RFC2544 Testing
100 Gigabit Testing
Ethernet Cable Qualification for protocols such as 10/100/1000Mb and VOIP
GPS Azimuth Alignment Verification
CPRI Testing
Alamon is able to provide power system engineering, installation, maintenance services and retro-fitting. We can support both AC and DC power systems. Our installation scope includes, Power plants, Battery Backup Systems, both indoor and outdoor power plant upgrades. We have in-house power engineers that currently design central office power plants for companies such as Lumen (formerly Centurylink) and Verizon.
Battery Backup Installation
Power Engineering
Generators
DC Power Plant Installation
Battery Installation
Battery Removal
DC Power Plant Swaps
AC Meter Installation
AC Service Upgrades
Load Studies
Alamon is equipped to decommission a large array of projects involving microwave removal, tower tear downs, foundation excavation, legacy equipment removal, off air telecommunication sites and beyond.
Site Equipment
Generators
Power Systems
Towers
Tower Foundation Excavation
Network Equipment
Vacant Sectors
Distributed Antenna Systems (DAS)
Alamon has the ability to cover your D.A.S. installation needs. We have completed projects at Disneyland and the Los Angeles Dodgers Stadium. We successfully and efficiently completed installations at both locations. We are able to provide installation services for utility/light poles installation, in addition to installation of remote nodes, antennas and fiber to the pole.
Equipment Installation
FTTX Fiber Testing
Microwave Backhaul Installation
Integration Support
Coaxial Power Meter Verification
Utility Pole Installation
Fiber to the Pole Installation
Alamon Wireless Services is a proud member of these organizations:


Contact
Request more information about Alamon Wireless Services.